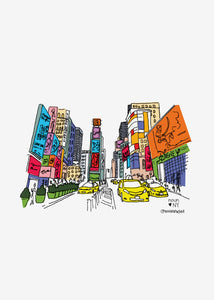 Bring Times Square home to you, without the tourists. The location of the New Years ball drop, commercial spaces, characters in suits, and restaurants. Might not be ANY New Yorker's favorite spot, but it's still a staple of the place we call home. 

Times Square print by Amanda Giuffre.  

Dimensions:
8x10in. 
110lb. card stock, smooth finish


*Frame not included. Final sale. No returns or refunds.
Not affiliated with restaurant/establishment.
 Takes about 2 weeks to receive.